June 24, 2012 in Featured Bloggers, Gettin' Crafty
My Luck Runneth Over! Waaaay back when I entered to win a custom silhouette from Lindsey at Out of Alabaster. Would you believe I ACTUALLY won?! That's TWO wins in one year for this girl. Before now, I hadn't won a drawing since 8th grade! If you're doing the math in your head right now, I'll save you the work. That's something like 1996 or 1997.  (Pretty sure you shouldn't bank on me to win the lottery any time soon.)
If you've never heard of Out of Alabaster, you need to head over there immediately and say hello. Lindsey has a great blog and a cute Etsy Shop packed with the cutest silhouette gifts you ever did see.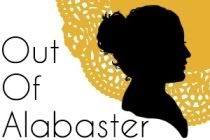 Anywho, my kiddos are of the furry, four-legged variety and I already have
silhouettes of them
, so I decided to have Lindsey make the silhouette of my nephew Thomas. I FINALLY got to give my sister, Karen, the silhouette gift this weekend so now it can be Blog Official!
Here's how it went down…
Dana wins blog giveaway contest.  WHAT! Winner!  (Yes, I'm doing this in 3rd person. Just go with it.)
Lindsey emails Dana some super-simple instructions on how to send her a photograph to use in making the silhouette.
Dana snaps some not-so-sneaky photos of Thomas while in Florida and emails them off to Out of Alabast
Lindsey emails Dana a Silhouette so stinking cute that when she opens it, she drops her fork o' food and sends her Lab Quinn into a scurry playing food clean-up crew on the floor.
Dana takes the original artwork and prints it the same way she did her furry-legged puppers' silhouettes.
Did you read that?  She sent me the ORIGINAL ARTWORK! So theoretically I could put the uber-cute Thomas Silhouette on EVVVERYTHING. Pillows, t-shirts, tote-bags, coasters, 10′x10′ wall murals (ok, maybe that's taking it a bit far).  But seriously – I love that she sent me the original file so I could use it as I saw fit. I simply printed mine on the "Thomas" page of my vintage encyclopedia, framed and GIFTED IT!
Lindsey has some other great Silhouette ideas in her Etsy shop. You'll completely swoon over the silhouette necklaces. They're uh-mazing.
So here's the photo I emailed her…
Seriously – that's all it took!  Lindsey is really talented. She captured his cutest features and made the silhouette. From there all I had to do was print…

….aaaaand frame!
I know I'm partial, but even his silhouette is adorable! I'm happy to report that Karen hung it up in her home as soon as she got home tonight. Woop!  …and if you're eyeing my "D" stool, I blogged about it here.
If you're looking for a silhouette of the two-legged variety, I HIGHLY suggest you visit Out of Alabaster's blog and/or Etsy shop. You won't be disappointed!
Hope everyone had a fabulous weekend. After some competitive cornholes  (I had the best partner ever!) and Miller-Lite-laced-lake-floatin', this girl is EXHAUSTED.
Monday  The DIY Showoff  |  Craft-O-Maniac  |  Making the World Cuter  |  Lines Across  Tuesday  How to Nest for Less  |  Home Stories A2Z  |  Tip Junkie  |  Debbie Does Creations  |  Coastal Charm  |  Wednesday  Southern Lovely  |  Primitive & Proper  |  Ginger Snap  |  Blue Cricket  |  Someday Crafts  Thursday  Live Laugh Rowe  |  Crafty Scrappy Happy  |  Perfectly Imperfect  |  Somewhat Simple  |  CSI Project  Friday  Miss Mustard Seed  |  Shabby Nest  |  See Vanessa Craft  |  Remodelaholic  |  504 Main  |  Sassy Sites  Saturday  Funky Junk  |  Tatertots & Jello  Sunday  Nifty Thrifty Things  |  Sisters of the Wild West  |  Under the Table & Dreaming
You may also like: