June 23, 2011 in Bedrooms, Building and Repurposing, Do it your Dog-Gone Self, Pups
If you know me (or are getting to know me), then you've probably realized by now that I love my pets…. A. LOT. My 14 year old Jack Russell is no longer allowed to sleep on my bed and she has some pretty strong feelings about being banished to the floor. I mean… who wouldn't!? I've tried to make her happy with a pillow and a throw, but she's not content. I've woken to find her sleeping in my suitcase (which I'm TERRIBLE about unpacking)… sleeping in a laundry basket (nope, not kidding)…. and even sleeping UNDER the bed.
Enough's enough. It's time for this girl to have a fitting bed! Lord knows she's waited 14 years for a bed of her own
Thanks to Ana White I recently discovered that I CAN build things… and I LOVE IT. A. LOT. My first project was a bench, straight from her website, that I posted about here. Then I moved on to a frame for a print I'd purchased for CHEAP at Michaels. Apparently that was just enough to get my feet wet and I was hooked.
I dreamed up the plans for Roxy's bed and made my shopping list. One quick trip to Lowes and I was on my way! 3 hours later I had made a dog bed sturdy enough to last for my great great great granddog's to use some day. Admittedly, I built this thing to be stronger than a fort. Not intentionally… but hey… it's my first build without someone telling me how!
What's that? You want a play-by-play…. well don't mind if I do!
For this project I purchased:
(4) 1×4′s for the planked sides, back and front
(2) 1×2′s to trim out the top and bottom
(1) 2×4′ piece of plywood, cut down to 21×30″
(2) 2×4′s
I already had plenty of screws and nails, glue, clamps, etc on hand at home.
I started by cutting out all of my pieces and stacking them up. The front boards are all 6″ tall, backs and sides are 11″ tall. I created my base frame and then began attaching the planks with 2″ wood screws. After finishing the frame and 1st side, it looked like this:
I kept crack'a'lackin until it finally looked like this…. ok wait. Before you scroll… just know that I realize it's NOT perfect. It's in fact far from perfect… but it was made with love.
(I'll wait while you finish groaning)
After all of the planks were attached, I used the 1×2′s to trim out the top and bottom edges and add a front lip. Who knew nail guns were so handy! WOW! If only I'd had it when I built the bench!
By the time I put my last nail in, I had a blister and two cuts. Small price to pay for a comfy bed for Roxy! I couldn't stand to wait so I ran inside and threw two coats of primer on it that night. By the next night it looked like this:
First coat of grey drying! ….and then the next day I tried my hand at glazing. Definitely not perfect… but hey… I'm learning (slowly).
I love how the dark grey/black glaze really brings out the boards and planks.
I planned ahead and sized the bed so I could toss two old bed pillows inside (with waterproof covers). This way I could wash and clean as needed!
Sweet Dreams Roxy!
.
.
.
Bouncing around at: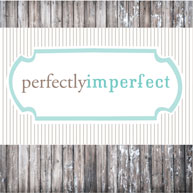 You may also like: