May 14, 2011 in Building and Repurposing, Furniture Makeovers, Kitchen, Pups
Can't wait to show you this… I'm SO happy with the way it turned out!  I was originally planning on adding a kitchen counter with some bar stools, using the same laminate that is already installed in my kitchen. When I saw this island advertised a mile from my house, I thought it just might do the trick.
I took a quick drive over and met the guy. The island had some small marks on the top and a couple scratches in the finish… but nothing I couldn't work with!  Did I mention I offered them $50 and they accepted!?  Yup!
I did a LOT of reading online. Was looking for tips on staining the butcher block. Much of what I read was about Ikea countertops so I decided to just wing it. I sanded with a medium grit and then fine grit paper and then slapped a coat of dark walnut stain on! Here is the first coat with the stain…
….and then after wiping first coat off….
A couple more coats…
Now we're getting somewhere!  I did a total of 6 coats of stain. YES. SIX. It seemed like the most dramatic changes were the first and second coats. After that… It was very slow going!
After letting the stain dry thoroughly, I slapped on two coats of a water-based Poly. …and I have to say… I LOVE THIS PIECE! It works perfectly in my kitchen.
The dogs are waiting patiently (insert sarcasm) for their meal.  Quinn's tail wags anxiously, Emma is less than thrilled about the camera, and Roxy is pretty clueless. Oh how I love those crazy pups!
Here's a close-up shot of their food pails! I bought chalkboard vinyl decals on Etsy, slapped them on and broke out my chalk marker. LUV!
.
.
Linking up at: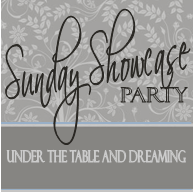 You may also like: